Sunflower Watercolour 30x40cm
Another sunflower painted for the same challenge as "Sunflower Fire" this time in watercolour.
To start this painting, I liberally applied masking fluid in a random pattern - squiggly lines and splashes over the paper. After that was dry I wet the paper and dropped in yellow, red and blue washes. I then sketched in the sunflowers following the reference but adapting it to take account of the lights and darks created by the masking fluid and washes.
I used mainly pure colour, allowing it to mix on the paper. Unfortunately, not much of the highlights left by the masking fluid can be seen in the final but it is an interesting exercise to do and it gives a more spontaneous feel to the painting.
Initially I was a little disappointed in the result as I feel I did not leave enough highlights, but now that it is thoroughly dry it is growing on me.
Certainly a technique worth trying again.
Some products featuring this artwork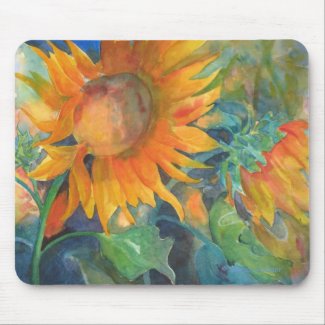 Sunflowers Floral Mouse Mat
by
Marionsart
View a different
mousemat
on zazzle